I knew I was onto something after I discovered Neoscoin sitting there nice and pretty a little bit back. This was at the time that BTC was right about to rise like crazy, which for some coins meant fantastic results were about to roll in while for others it delayed progress.
The first thing one should always do is look back at the charts and the news events, especially around cryptocurrencies. Small little news pieces or even little social media updates from the official accounts can drop hints. I like to follow the twitter accounts, forum posts (especially from whales or other savvy investors on Steemit) and any news reports within the past 48 hours. I saw something when I looked at the history, I mean.. it's a little bumpy but this coin sure loved going up. Now whether that's due to pumps or actual investment flowing in, eyy that doesn't matter if you're going for short term gains.
This coin has been steadily going up for quite a while, but in all honesty the volume is quite crap. It's a little spooky when you realize there isn't much movement for a good part of each week or even month, right up until suddenly there's crazy volume rushing through, effectively raising the price. I would definitely not recommend going into this coin unless you know what you're doing, or for that matter ANY of the cryptos.
I knew it was a bit risky so I decided to only throw in a couple hundred bucks worth of BTC into it. Compared to my XEM, XRP and Steem buys this was nothing. But I felt that something could come out of it. And even though I was tempted to sell XEM at certain points, I knew holding onto all the coins would be the best strategy through the tough blood red days. And of course, the strategy worked. Don't let your emotions take you for a roller coaster ride or else you'll become like one of those freaked out panic sellers, jumping on a silly bandwagon that at the end of the day is worth nothing and only leaves you with regret once all is said and done.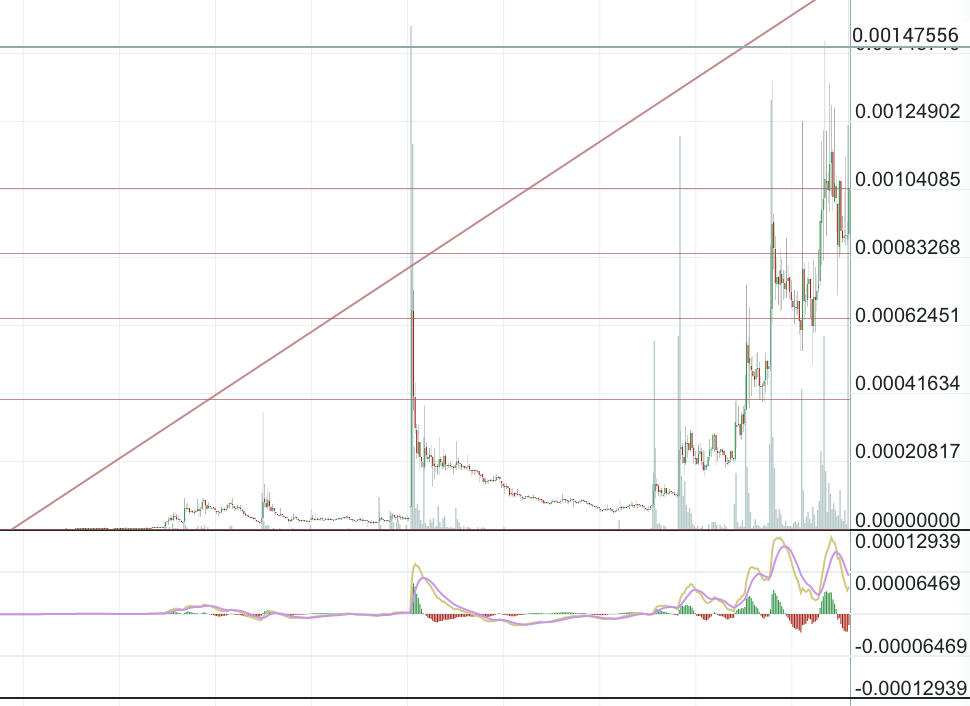 For something that's extremely volatile like this, the best strategy is to just wait for a really red day. When something is down, especially in the double digits, it's most likely a good time to buy. But be aware of where BTC is at, for some coins will decide to flip around if BTC's suddenly skyrocketing so you'd be a little screwed if you didn't take that into account. I'm not sure whether or not I bought at the best point in time, but I definitely was excited about it a bit in the lows when I first got into it.
I didn't care so much for NEOS though and that's why it's the only coin I placed orders to sell for. I placed them high, and I'm glad I did. I didn't sell when it fully peaked, I mean I could've probably gained another 10% or so, but screw that. I missed out on thousands from ETH and all the others, but you know what? I don't mind. I'd rather play it safe and always cash out green then to lose big one of these days just because I placed either the orders too high or my ego got bruised heavily due to holding for too long. When you can't lend the coin (unlike XRP or ETH, XEM and NEOS are too low to be used) or put it to work, opportunity cost sets in once you're holding for longer than a few days or weeks. If it's months and you only end up making like 10%, maybe you could made like 50% more if you spread it out.
Anyways, a nice and easy $200 or so isn't bad. I immediately placed more BTC up for loans and am excited to see where everything goes. ALWAYS diversify baby
It was a little bit of a surprise when it went crazy today, however over in the crypto world you see people doubling or even tripling their net worth within just a matter of a few weeks. If you know what you're doing, it may be in your best interest to look into this in comparison to the stock market. But just be careful, as higher risk means you could lose all your winnings from this week in the very next one. Play safe, but at the end of the day have fun with it!
Don't like ads? Remove them while supporting the forum. Subscribe.