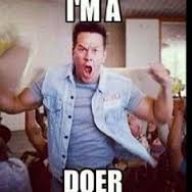 Legendary Contributor
EPIC CONTRIBUTOR
Read Fastlane!
Read Unscripted!
Speedway Pass
I have 2 stories to share.
I think it's easy to get involved in the fastlane here, and start to lose sight of how most people in the world actually are, and hopefully you can realize that it isn't actually that hard to set yourself apart from most. It really just takes some legit effort and execution!
A Room Full of Opportunity
I've been taking this class on lead generation and sales. GREAT class. We have to give presentations of our sales efforts in class, so this is part of my efforts to overcome my fear of public speaking!
Interesting lesson came up the first day though...
This is a room of about 75 people, mostly licensed professionals.
Realtors
Mortgage Brokers
CPA's
Lawyers
Financial Advisers
A couple of personal trainers were there too
The instructor said:
"Raise your hand and keep it up if it's been more than 24 hours since you cold called a lead"
The entire room raised their hand (except me and one gal)
"More than a week since you cold called?"
NO ONE put their hand down.
"Two weeks?"
95% of the room still had their hand up
"A month?"
90% of the room still hand their hand up
"Put your hand down if the reason you didn't make calls was you didn't have any leads"
Still, 90% of the room had their hand up.
The instructor then went around and asked various people
why
they don't call.
"don't want to bother them"
"I don't like rejection"
"it's scary"
"probably won't answer their phone anyway"
"I'm sure they're too busy"
90% of the room didn't make cold calls, not because they didn't have leads, but because of FEAR! Those fears manifested themselves as excuses!
A room full of self-employed, or at the very least commission based people, and they are letting themselves fail.
CHOOSING to fail.
Meanwhile, someone else is taking their leads and making
a lot
of money from them.
While it was sad to see this (I love to see people succeed!), it was quite eye opening, in that if you're in one of these industries...
9 out of 10 people in that room were not a legitimate competitor to you.

IT HAS ALWAYS BEEN THIS WAY

I'm reading this book,
The Effective Executive
by Peter Drucker. Originally published in the mid-1960's.
He talks in this book about how
ineffective
the vast majority of executives are. Additionally, he defines an "executive" as
anyone
that has the responsibility to
execute
systems or processes in business (so not just c-suite type people)
It's eye-opening in that if you had told me this book was written last year, I would believe it.
I also just got done reading
How to have confidence and power in dealing with people
by Les Giblin, originally published in 1956.
In this book he talks about how people struggle to overcome fear of rejection (especially in contacting leads), and how they are
choosing to fail.

Crazy. Sounds just like today, no?
TL;DR

2 books, both written in America's "golden era" of business when supposedly everyone was better at their jobs and were far more effective.
A class showing that people are still the same way, and while technology might change (texting and such makes it easier to avoid fear), people as a whole DON'T CHANGE.
Is there really as much competition as you think?
"The children now love luxury. They have bad manners, contempt for
authority, they show disrespect to their elders.... They no longer
rise when elders enter the room. They contradict their parents,
chatter before company, gobble up dainties at the table, cross their
legs, and are tyrants over their teachers." -
Aristotle (or Socrates depending on which historian you believe)
Last edited: