Limitless
Read Fastlane!
Read Unscripted!
Speedway Pass
User Power
Value/Post Ratio
432%
Nov 14, 2011
2,486
10,741
This post is my thank you to
@MJ DeMarco
for what his book has done to change my life.
After I make this post, I will be logging off of this Forum for a while.
I have a lot of work responsibilities and I have to commit my time and energy exclusively to that.
This final message is a testimonial about how reading The
Millionaire Fastlane
has changed my life.
7 Years After Reading the Book
In 2011, I was 25 years old, obese, broke, unemployed, and living in my parents retirement home in rural North Carolina. I had no confidence, motivation, or direction in life. I never even knew what entrepreneurship was.
When things couldn't get any worse - I picked up a copy of The
Millionaire Fastlane
by
MJ DeMarco
.
It inspired me that my past or current circumstances did not dictate my future. That no matter how bad my life was in this moment, things can change.
That no matter how dark the darkness I was looking through, and no matter how long the dark tunnel was in front of me, it was this book that lit up a small glimmer of light in the distant future.
That yes, indeed - something more in this life is possible for me.
Whatever that glimmer of light is when your journey begins, move towards it, because what you seek is there, and you can do it.
Six months after reading this book, I drove 2,000 miles across the country to have lunch with
@biophase
down to the last $250 to my name
Our mutual friend at the time (through this forum)
@Trevor Kuntz
and I connected on facebook and suggested that if I was in Scottsdale ever - we all could get lunch together. -
After some back and forth debate, I realized that the life I was living was not working out for me, so I needed to take this change. I took whatever money I had left (it was about $250 and a $500 limit credit card) and did what may parents said I was crazy to do.
The only reason I had money when I moved to Scottsdale is because I bet it all at Talking Stick Casino and won $2,000 in poker.
After bragging to biophase about 'how much money I made' (a dude who was legit killing it in business at the time - and still is), the best advice he gave me was to stop gambling (and get a job). But, Kenric, it was through your travel videos on Vimeo that inspired me to take this leap.
You posted these videos of you living a kick-a$$ live and traveling the world.
There was one that stood out. You lived in Scottsdale, Arizona most of the year and spent the summer in Colorado - mountain biking through the mountains. In the place I was at that time of my life, that was the only one that I would ever think to be possible for someone like me.
After moving across the country to chase my dreams, I worked in customer service for two years for a shitty used car finance company. I spent my days hating my life, locking myself in my bedroom on weekends and nights on my computer, read this forum every day, read a lot of books such as cashvertising, the four hour workweek, built to sell, and others like that.
The only problem is that I was talking about it, learning about it, dreaming about it...
But I wasn't actually building a business.
I had no confidence in myself and had no clue where to start. I had very little direction and guidance, so I was left frustrated and stuck where I was. Reading stories of people on this forum knowing that the life was out there - doubting every single day if that life was possible for me.
Eventually I formed a skype mastermind group with
@wade1mil
@JasonR
and
@TheTruth
- Three of us eventually moving in an apartment together in Scottsdale, Arizona.
The main benefits there was an accountability group that forcefully kept me accountable no matter how much I wanted to slack off. Also we committed to one idea for 6 months, despite how many failures we faced.
Their businesses took off first, and seeing Jason build his business so fast provided me the true belief that it might be possible...for someone like me. He was just getting started out like I was at the time too.
When we see stories of those people already being successful, it doesn't do anything for your confidence in your own abilities until you see someone else who is walking beside you start having success.
This is why mastermind groups with your peers is so effective.
It's also important to have the right mentors. Aside from going out and playing poker monthly with the Scottsdale Fastlaner crowd, we also had a millionaire mentor who flew into the city and mentored us on occasion.
Something never felt right about that guy and a rift was torn between me and the group of people who closely followed him. I sensed something was off the first time I met him.
During this experience, I realized that you should always trust your gut.
I won't say anything more about that.
Trust. Your. Gut.
After 2.5 years of failing, the following thing led me to my first business 'success':
Focus on one thing through all the failures, until one da you accidentally don't fail.
By June of 2014, my iOS app company took of, and I finally quit my job and was earning 5-figures per month. This was only after they were rejected 16 times. That company is now up to 1.3 million downloads (and not something I work on anymore)
During this time in my life, I decided to look back at the newer members of this forum and started making posts about
mindset
. To give them the belief that something like I accomplished would be possible for them, regardless of how bad they were went they started out.
It's one thing to hear people tell you it's possible, but it's a whole different thing to really 100% truly believe that it's possible for you too.
I wrote my first book documenting my experiences up until this point of building my first business. The mindset shifts I made.
I finally accomplished the impossible and quit my job in Phoenix and lived in Colorado for 6 months, where I didn't work, slept in late, hiked through the mountains, and partied with the college crowd late into the night. Life was stressful for the past 2.5 years, so I decided to make up for lost time.
A girl I went to college with visited and we went horseback riding through Wyoming and hiking through Rocky Mountain National Park.
After my first business took off; I noticed a lot of the things that were promised to me with the 'external vision of success' wore off over time.
I still lacked confidence, social skills, and control of my mindset, emotions, and habits.
So I became obsessed with hypnosis and NLP. It made a really transformative shift in my life. While most people scoff at the NLP 'for influence', it is hands down the most important tool in my life for achieving my
goals
when you use it for your own personal development.
All those habits, fears, qualities, etc. - when you put it to use - are more power than anybody can imagine. I pushed hard to promote it here because that was the thing that made the shift in my own internal habits of entrepreneurs.
And to not mistake this for a personal plug, hands down I would suggest getting trained in this by NLP.com - under the direction of Dr. Matt James. I took my Practitioner and Master Practitioner certifications trainings with him.
http://www.nlp.com/
They only did training seminars across the country when I got trained in it, but I think they have a program online now.
So 3 years into my Fastlane journey - I not only was able to build a business I never thought to be possible, but I also began taking more control of my mindset, emotions, habits and outlook on life.
For the next few years of my life, I was traveling all across the United States. I started a new business to help people through all the past struggles I faced, hoping to deliver quicker solutions. I began making marketplace postings on this forum, I did youtube paid ads, created udemy courses, and did other marketing to offer services for this business part time.
But mainly I was traveling.
My apps crashed in October 2015 and I lost all of my money from my first business. This led to a massive buildup of stress while I was traveling through Seattle, and I was in and out of doctors offices all winter due to heart palpitations and night sweats.
The lesson I learned here was that you should control your spending (and eating) habits when your business takes off. If you go around spending more than you make, and don't track your finances - you'll hit a shitty point like this too.
This is advice I was given - but it really wasn't important to me or something I thought I should listen to - until shit hit the fan.
I lived with my parents for a few months in that time frame because I was not well-enough to do anything. Spent most of my time in bed recovering.
Finally, a doctor prescribed me a bottle of anti-depressants.
With an entrepreneur spirit, I went out determined to find a natural solution. I studied under a psychology with 26 years of experience in rapid emotional release techniques. He cured my stress in 5 minutes.
I talk about this a lot, but I can't stress enough how important it is. The Emotional Freedom Technique (EFT) on YouTube is a serious go-to tool for releasing an unhealthy buildup of negative emotions, and it really only does take about 5 minutes.
This tool alone prevented me from slipping back into depression, which plagued me for 2 years or my life before reading The
Millionaire Fastlane
. Whenever I saw someone struggling with emotions on this forum, I began posting a link.
All of a sudden those books such as The Power of Now seemed like bullshit, because with real psychology techniques - that is where I noticed the real changes in my life. Not only when 'things were wrong' with me in terms of stress...but in terms of normal emotional balance, performance, overcoming habits, and performance-based changes.
That's when I grew passionate about sharing that.
@Andy Black
continued to tell me 'to only help those in motion', but it was a passion of mine to help those who were stuck, like I once was up until this point on my journey. I didn't listen to him and kept pushing forward, at the expense of my business growth.
In June 2016 marked the two year anniversary of quitting my job and I fell in love for the first time.
I met the most amazing woman of my life, but I didn't have what it takes to attract her and I ultimately pushed her away. In that moment, in 2016 - I was at a different rock bottom in my life, in terms of being a man, personal development, and growth in the relationships area of my life.
Before reading
TMF
, I would have cried about it and feel like I was stuck forever. But with this new empowerment mindset through these experiences, I knew that I could transform and grow. So improving relationships became a core interest of mine.
I lost a lot of weight, I went out (finally), I personally interviewed the CEO of the largest dating companies in the world, and used the psychology stuff on me to release my 'inner baggage' - all that shit from being bullied in the past, rejected, fear of talking to girls, social anxiety -and I worked through that in 3 weeks.
All of a sudden, I gained confidence.
A month later, I met a girl who became the first girlfriend I had in 8 years, and we began to travel the world together. When I flew over there, shit hit the fan. She was batshit crazy, tried to lock me in an apartment, and at once point I was seriously thinking she was going to stab me.
Needless to say, I left her and I was standing all by myself in a foreign country.
For the next 3 months of my life, I was traveling the world (western part of Europe) by myself. I used to be really shy and nervous talking to women, and I saw this most beautiful girl taking photos of the landscape in the distance.
I got learned how to provide myself enough motivation to speak to her, despite always fearing rejections (approach anxiety) in the past. What I thought would have led to sure rejection turned into a dream day in paradise together.
We went geocaching up the side of a mountain, toured the city together, had drinks, walked barefoot on the beach together, dinner, and went on random adventures into cathedrals. It was absolutely amazing.
View: https://www.youtube.com/watch?v=PNPV5PiUzeE
5 Years after Reading The Millionaire Fastlane

I am having this dream day in paradise with one of the most amazing girls I ever met in my life, and began my travels of the world as a digital nomad entrepreneur.
With my sudden boost in confidence, and being motivated to stay in shape, I began attracting women that would never even talk to me in the past. Mixed with all the other things that stemmed from reading this book, I reached the point where I lived out every single one of my wildest dreams in life.
I built an app company that has over 1.3 million downloads.
I managed to completely turn my negative mindset around.
I traveled all across the United States.
Got to travel internationally.
I also faced my worst fears.
I ran out of money and went homeless in the middle of a foreign country.
The day after my 30th birthday, I was left in the streets in the middle of Manchester, UK - facing my worst fears.
But somehow, in the toughest of situations - I was stress-free.
None of this would have been possible in the past version of myself.
In the most toughest of times, I had a positive mindset, I put all the resourcefulness I had together and found a way to make things work out. I met up with a girl on Tinder and lived with her for a week, after then; I found a way to hustle for some money and make things work out.
I found friends in Europe to stay with and eventually made things work out. Getting my business on track again.
This is the moment in my life where every single one of my worst fears in life unfolded:
Getting in debt after quitting my job.
Having to move back with my parents after quitting my job.
Facing serious medical problems in a stat where I had no insurance after quitting my job.
Going homeless in the foreign country without any resources.
This is the moment where the advice from some of my people in terms of "Burning the Boats" led me to facing one of the worst failures possible.
And I would do it over 100 times in a heartbeat if I had to make that choice again.
Because the real benefit of the progress you make as a fastlaner is the capabilities you develop and who you become.
In that moment, I realized that no matter what happens to me on the outside, no matter how bad my circumstances are, I am capable of handling anything.
Now, I look back at all those little fears I used to have - and they were nothing that should have ever stranded in the way of me chasing my dreams. Shit happens, you learn how to deal with it, and you move on. Some people crumble under pressure and that could destroy them, so take a hard look at who you are before you take risks like quitting your job of 'burning the boats'.
Then, when nothing is left.
And then, one late night in Amsterdam Central (train station)...
I just finished spending the night parting with two younger-20's models I met a few hours earlier. It's now five years after reading the
millionaire fastlane
, I reached the point where I lived out every single one of my wildest dreams that I ever had from my younger 20's.
And I also lived out every single one of my worst fears.
A lot of the things I thought I wanted and would make me happy in my life no longer mattered anymore 'money just for the hell of it' 'models' 'travel' 'nice cars'. Freedom is the true benefit for personal desires. The rest are great, but after I achieved everything I never even thought to be possible in my life; something was still missing.
I asked myself..
What the hell am I going to do next?
In this point, I fell into a slight funk.
I no longer strived after making the money. I no longer really cared about the personal benefits. The travel, the freedom, etc. - meant less to me then they did.
So I spent the first half of 2017 just kind of building my business as I wanted to - making sales as they came in - maintaining things until I figured out what I wanted to do in life.
I moved back to Boulder, Colorado - because the women I fell in love with could not leave my heart for the life of me. The only thing that mattered to me in life was her - and she meant more than anything to me. The only problem, since we parted ways and dated other people - she just got engaged now being a few years later.
So I reached the point of 'what's important to me in life'.
I began experimenting with different types of things - business wise, etc. and got involved with the animal rights community. I don't feel passionate about the activism part - but the leaders of one of the largest groups did a weekend training on the topic of
setting your Vision in life
.
Reflecting back on the only thing that was meaningful to me...true love with a women you care for and she cares for you too.
I decided to write a book to help other men through my journey in relationships.
While at the conference with the visionary, he said that "Your tactics,
goals
, and strategies may change, but the
Vision
you set for yourself is timeless and will never change."
7 years after I read The Millionaire Fastlane
, this is where I'm at.
I have a vision in life that I won't stop at anything to make a reality.
I have the experience, skills, and capabilities to build it quicker than my first time around the block.
I have the resourcefulness and self-confidence to go out there and know that I'll succeed in anything I do, and that I can learn new things If I don't know how to do them. Or to go out there and find someone to teach me.
I have a very successful personal mentor here in Colorado who is where I want to be in life - and I am taking the guidance of him to help me navigate from solo-preneuer to the point where I grow and scale into a larger company.
I know exactly what I am doing, what steps to take to get there, and the reference experiences from my past to continue pressing forward through the failures and adversity - no longer letting me slow that down.
I have never been more motivated and driven to accomplish what Im setting out to accomplish in my business and my purpose in life to help others behind this journey on me.
I am in one of the best shapes of my life, I am eating healthier than ever, I have a great group of friends, and have full control of my emotions, mindset, and habits in life.
And this morning, I just went on one of the best dates of my life.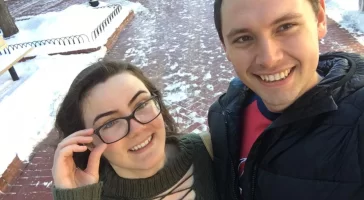 We just made plans to travel to India, New Zeland, and Thailand together.
To find a girl who is more into Law of Attraction and NLP than I am, and someone who is naturally attracted to me for who I am at my core.
My final words before I log off from here...
Reading The
Millionaire Fastlane
and joining this forum was the thing that propelled me out of the worst times in my life to the point where I have achieved personal results that I never thought to be possible for me. Life of my dreams.
And it can do the same for you.
https://www.amazon.com/dp/B004BDOUAI/?tag=tff-amazonparser-20
Thank you for everyone who I met from this forum who I talked to or crossed paths over these year.
And thank you MJ for doing what you do.
I am going to log off of this forum now because I have a lot of work responsibilities that will take up a full schedule and I have to put my energy into that for the foreseeable future.
Last edited: