Legendary Contributor
EPIC CONTRIBUTOR
FASTLANE INSIDER
Read Millionaire Fastlane
I've Read UNSCRIPTED
Summit Attendee
Speedway Pass
May 5, 2014
824
5,378
1,285
27
Alright, figured since Im in somewhat of a hiring phase I would document and outline how I'm going about the process.
While I've hired people within the US to manage my warehouse and operations I am going to specifically go over how to find and hire a VA for your company.
We start in the Phillipines, Im not going to get into the why and what makes them the best but essentially, their loyalty, skills, talent, and pay required makes them the ideal VA location to source from.
1. Start by going to Onlinejobs.ph and creating an account.
This is essentially a marketplace to hire VA's to manage all sorts of tasks - literally anything. Most jobs will range from $300-1000/mo for people working a 40 hr work week. Ive found great contractor VA's on upwork before but when you are looking for an employee I dont think there is any better than this platform because they provide you with extremely competent people looking for full time work.
2. Post your job, be specific, be clear, give instruction
I honestly believe that most people fail before they begin with this step here. They expect that their poor instructions and lack of clarity will give them the ultimate employee and then blame the employee for not knowing what to do.
I broke my posting very specifically.
- What three tasks did I want the VA to be skilled with (Amazon, Shopify, Inventory Mgmt)
- What specific things did they need to know, be willing to learn, or already be doing
- What apps,forms, etc did I want them to know
Important Note:
I mind mapped out all the work that I was doing, that I needed to get off my plate, and then in order of importance ranked it in how I was going to hand it off.
Then BEFORE HIRING, I've created a process or system on how to train the VA on that task - I bought an amazon course that would train her on tasks, I bought a udemy course on shopify to teach her on those tasks, and I will spend the time training on suppliers,etc. By making videos and doing in depth training.
Note that this would be after shes proven herself with the first two videos so I dont waste my time training someone that isnt good/leaves.
3. Create a Google Form application form, ask ~10 specific questions to the job and give instructions on how they should apply.
Ex: Start your response with three sevens. If they dont, they are automatically out.
From the 10 responses to the application I got, three got it right and the three that did are rockstars and you can tell they are competent.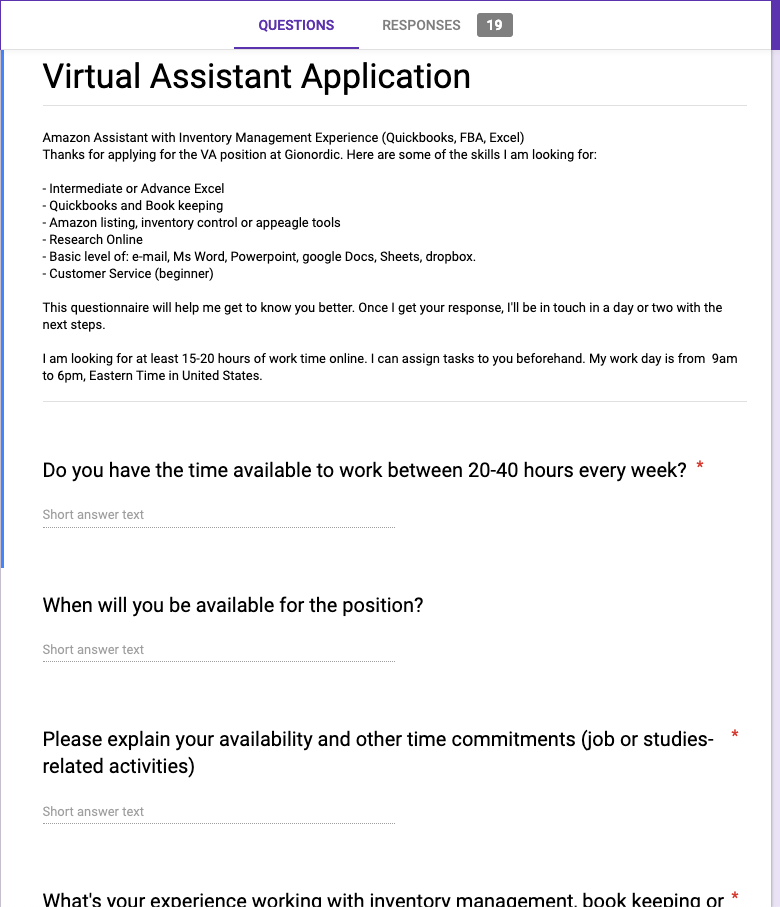 4. Once you've identified between 2-5 candidates for your position you will set up interviews with skype.
My candidate was open to talking on the phone but I opted for text. The filipino culture are generally shy and most will opt to chat via email/text as it makes them feel more comfortable. I generally spend this time asking them about their experience, current living situation, and try to get a feel for if they are right for the position I'm hiring for.
To give you an example of this - the woman I decided to hire to basically run my entire backend operation with me has an industrial engineering degree with a focus on both inbound and outbound logistics and has worked extensively on inventory planning. She was asking for $600/mo and wanted to stay home with her young kids.
To me that's priceless because she has the experience that I dont to continue scaling my companies and fills many of the gaps Im seeing in my business and I have the means to help her stay at home with her kids.
NOTE:
If you have multiple candidates you like, set them up on a 2-4 week trial and determine which one you like more, if you still like them both hire them both and get them to work with each other. Otherwise, opt for the one that's most coachable.
5. Training and Implementation
If you're like me you probably have 0 standard operating procedures written down and all of them jumbling around in your head 24/7. It's a pain in my a$$ and I f*ckin hate the thought of sitting down and writing it all out.
So im not going to. If you're VA is competent give them small tasks a few at a time and have them create your SOP's. You may not want to do this if you don't have the faith/trust.
Hand off all login info needed to take over necessary tasks


Send over training itenerary/plan


Send over instructions on how to communicate (Im using a mix of slack and asana)


Emphasis trail period
NOTE:

You need to build trust and in the first month or two you should pay them their salary broken down weekly ($150/week) for my example to gain their trust and give them the stability they need.

Common Questions





1.

When should I hire a VA?


Honestly, looking back I hired one way too late - Im literally hiring them because I am spending all my time working in my business and not on it. I figured 100k/mo was a safe time to afford to hire one but I should of done it at like half that revenue.

2. I dont think I have enough work for them

I'd hire them before you have the work and have them build the SOPS and take all menial tasks off your plate. Cause now im doing all the bullshit tasks I shouldn't be doing. Im my own bottleneck currently.

3. How do you pay them?

Paypal, they are paid as a contractor

-----

Onlinejobs.ph has some really awesome ebooks to study and learn from on this. Ive just condensed my process for all of you. I think its a great way to go and I know of a couple guys running 8 figure companies with entire offices of VA's in the Philippines.

Hope this is useful to some of you!
Don't like ads? Remove them while supporting the forum. Subscribe.