Hey everyone, around 2 1/2 years ago I posted
this thread
where basically I was ranting and talking about how I felt completely lost in life and had no clue what I should work towards.
1 Year later, I posted
this update
on the thread where I talked about where I had gotten, I had just picked up game development in Unity and was about to go into college for a MS in computing science (No college tuition since I live in Sweden).
Now, one year later, at 20 years old I have made even more progress in life and I'm really happy with where I am right now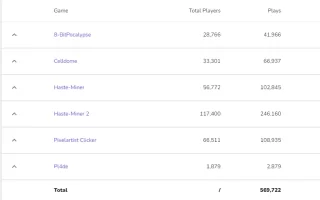 Above are some casual games I've made this year, usually taken a couple of weeks per game and then published them to the web, as you can see, I have gained a play count of over half a million (!!) which feels incredible, seeing as only 2 years ago, I knew literally nothing about game development.
(The last game did quite bad since I made that waay before the others and didn't have a casual web game market in mind when making it)
(Also, I am making money off of these from ad revenue)
The popularity of these games has also allowed me to build up a community (on the chat application Discord) with over 2.000 members who always gives me input on changes, bugs, and who I can promote new releases/big updates to.
My plan now is to keep working on free WebGL games, but I have also had lots of requests to put the most popular title out of these, "Haste-Miner 2" on steam, which I probably will for a couple euros

If anyone is ever in the same situation I was in back when I made that first thread, hopefully these threads will help you a little bit or at least inspire you, I'm also always open for a chat
Thanks for reading
) (Oh, an college is going great)