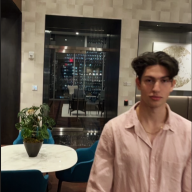 Bronze Contributor
FASTLANE INSIDER
Read Fastlane!
Read Unscripted!
Speedway Pass
'ello there! Hey, I'm
Chx
(No reason behind the name, but if I stick around here long enough, I'll definitely find some meaning for it), and this is my introduction post (!)
Hey, I'm
Chx
(um you already introduced yourself?)
I'm
fifteen
years old. (gasps ensue) freshman in High School
Born in Boston and currently living in Saint Paul, Minnesota. Oh, the things I'd give to escape to
Arizona
right now and enjoy some weather above 20 degrees... if only there was some
event
going on there right about now?
My
SKILLS
: Playing soccer, writing (mostly creative writing), a bit of coding, time management. Oh, and math -- I know
hella
math (up through Calc 3, Linear Algebra + Combinatorics for anyone who....cares)
I've been in a solid
wantrepreneurship
phase for the past month and a half (a month and a half seems a lot longer when you're fifteen). For example, I watched a lot of Alex Becker videos so my brain could jerk off to his gold rolex and Ferrari.
I even indulged myself with some
Tai Lopez
. Word for word, I kid you not, I searched "wtf does
Tai Lopez
do?" and lo and behold, found some odd website called
THEFASTLANEFORUM
.
Poked around for a while, made an account, then decided I wanted to witness the great book and all it has to offer.

<bs>
So, I ventured to the nearest hotel, barged into a room on the third floor, and bee lined towards the night stand drawers (y'know, where they have the bibles.) I grabbed a bible titled "THE HOLY BIBLE" and went to the front desk.
I complained, "This isn't the real Bible!" The receptionist lady responded, "Do you want the real one then, hun?" I nodded, and then she handed me a shiny copy of
The Millionaire Fastlane .
Ahh, that's better.
</bs>

Okay so that might've not happened, but what
really
matters is that I got my hands on a copy of
The Millionaire Fastlane
(okay not even that part is true -- I got my hands on a Kindle
containing
a copy of
The Millionaire Fastlane )
.
I finished the book and --- woah. My perspective on so many things changed. Have my children,
@MJ DeMarco
. For example, I stopped trying to think of ways to make money but instead trying to think of problems that needed to be solved.
And I'm reading
UNSCRIPTED
now. I don't think I've thoroughly enjoyed books like this since Lord of the Rings.
Holy
CENTS
, this is such an
awesome
community! I just love the sheer energy and brilliance that comes from the users here. Now that I've ingratiated
you guys
, please help me and give me advice on some of the questions I have!
What is the best way to make money onlin--- I'm just KIDDING don't burn me alive
Like I said, I'm 15. In what ways will this be advantageous/disadvantageous to me in the world of business?
What would you recommend as a first business to get into? Or, how can I identify a need that needs to be satisfied? (apart from the "I hate, this sucks" advice, which is pure gold by the way)
Like I mentioned above, I know an abnormal amount of math for my age. Does this math knowledge hold any leverage in certain markets/niches (those are correct words right ?)
Or any general advice for a 15 year old interested in entrepreneurship?
Thank you!
I'm truly honored to have come across a community like this, and I sincerely hope that I will be a productive member here. If anyone decides to help me, or say anything in general to me, or look at me.... I will be grateful.
------------------------------------------------------------------------------------------------------------------------
Wanna buy my 999$ course?
------------------------------------------------------------------------------------------------------------------------
I cannot wait to become an active member here, and thanks for your time reading my post.