Limitless
Read Millionaire Fastlane
I've Read UNSCRIPTED
Speedway Pass
Nov 14, 2011
2,486
10,315
2,306
The Life of a Limitless Entrepreneur
Malaga, Spain | 2016​
Is The Struggle of Building a Business Worth it?
Do you ever have those moments in your life where you feel like you're living in a dream?
I've been alive for 10,921 days and today was (hands down) the best day of my entire life.
This is why…
Spontaneous Eye Contact with a Stranger
On my flight from the United States to Europe, I read a book that says when you make spontaneous eye contact with a stranger, it is a sign you should talk to them.
In the past, my eyes would usually dart away, I would look down towards the ground, and I would carry on with the rest of my day living in my comfort zone, keeping to myself.
That never led to exciting experiences.
Getting Lost in Travel
I just got off a two-hour bus ride to Malaga, Spain where I'm spending the week before traveling throughout the rest of Europe. I packed my backpack with my clothes, laptop, cell phone, and
nothing else
.
Freedom.
On the southern coast of Spain, overlooking the Mediterranean, the landscape is filled with 70-degree sunshine, clear blue skies, palm trees, and relaxing Arabic music playing harmonically in the background of the high-end restaurants of this luxurious costal city.
A cruise ship's air horn echoes throughout the harbor.
I have an hour to kill before I can check into the hostel, so I walk down to the beach.
As I'm walking on the glossy-stone boardwalk, I notice a girl with a camera taking scenic photos of the palm trees and the city-scape, which is now melting into the distance.
The view of her: eyes lost in the window of the camera, hand adjusting the zoom, warm pleasant smile on her face, completely at peace within the present moment. This view of her could blind anyone from the most picture-perfect views casted in the landscape in the distance.
Palm trees, beaches, pure white houses, and a crystal clear ocean landscape for hundreds of miles around. What they would capture in this moment would be the perfect shot of someone truly living in the present moment, which could easily make its way on the cover of any magazine.
Simply beautiful.
I walk down to the beach for a few minutes to record a YouTube video for my channel with another YouTuber I met on the beach.
I begin walking back and notice the blonde girl from before sitting on a bench nearby, looking at her photos with the happiest smile on her face. She didn't look Spanish, so she must be
lost in travel
as well.
I wonder where she's from.
As I walk down the boardwalk towards the mountains in the distance, about 50 steps later, some
internal feeling
pulls me to look back for a brief moment.
In this moment, we both make
spontaneous eye contact with a stranger
.
I have to say hi.
"Do you speak English?" I say with a happy smile on my face.
"I do." Aneta replies with a smile that matches mine.
For the next 8 hours, two strangers get
lost in travel
together. With the occasional question about the past or future, most of the day was spent going on random adventures, stopping to take photos together, enjoying each other's presence, and simply…experiencing life together.
My companion is from Czech, is interning as a tour guide in Malaga, and has a passion for travel and photography. She speaks Czech, English, Spanish, and about 8 words of German.
Spontaneous Adventures
Our day together begins with geocaching on the side of a mountain, just outside of the city, walking through a park, taking photographs, and then hiking back down to the beach where we grab a drink and walk barefoot through the water.
I briefly mention that I was killing time before checking into my hostel at 1:30 p.m. Looking down at her watch, she points out that I missed my check-in time hours ago.
Time ceases to exist and we are completely lost in the present moment.
As we're sitting side-by-side on some rocks, gazing off into the distance of the Mediterranean, I talk about how I'm a writer and that I publish my own magazine for a living; providing me the freedom to travel as I work.
When Life Feels Like a Dream
For years on end, I always dreamed of being a location-independent entrepreneur with the freedom to travel the world.
I always wanted to hop on a bus, train, or plane, arrive in a beach-front paradise, and meet an adventurous and positive girl to explore a foreign culture with.
In this dream, we would get along great from the very beginning and go on spontaneous adventures together, see the sights of the city with no timeline, plan, or care in the world.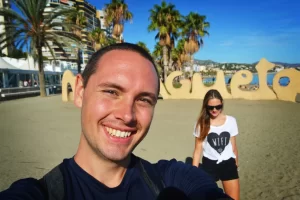 For my entire life, this has been nothing more than a dream…
We would see a unique restaurant and sit down for dinner, and then share some drinks together.
If we were walking by something that stands out, we would make eye contact, smile, and both know we have to go on this new adventures.
I always had dreams of getting Lost in Travel and helping others live a life like this…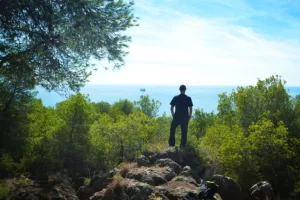 Conversations Over Dinner
As we are sitting on some lounge chairs, drinking tropical drinks after dinner; I notice myself commenting out loud "I feel like I'm literally living in a dream." on more than one occasion.
It felt like, in this moment, life wasn't even real.
It wasn't until later that night when I realized why it felt that way…
We are walking through the city and notice an elderly couple walk out of a cathedral.
My friend and I make eye contact, smile, and spontaneously run to the gigantic wooden doors, not knowing what's in store for us on the other side.
I've never really went to church since I was a child, but the inside of this church was nothing like anything I've ever seen back in the States. The artwork and atmosphere was absolutely amazing as the priest said some words in a language I didn't understand.
Still taken away by this experience…
After walking Aneta back towards her apartment and saying goodnight, our departure didn't feel like a goodbye; despite only being in this city for one more day.
Something inside felt like I was going to be back…
Malaga Nightlife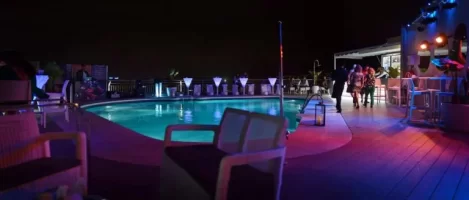 As I finally get settled into my hostel, I find myself getting dragged to a pub-crawl at 1:00 in the morning, and I start talking to the various people I'm with:
Nicole is from Switzerland but speaks German.
Her boyfriend is from Switzerland as well, and just began kissing some other girl in front of her.
They are in an open relationship.
Pavel from Czech.
Sasha from Russia – She likes to dance.
Sasha from Australia – She's vegan.
Two guys from Brazil, a drunk guy from Greece, but looks Finnish.
And the drinks begin to kick in.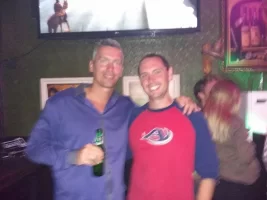 Amazing stories from all across the world begin to roll in.
Drinks
quickly turn into
conversation
which leads to
dancing
with Sasha, which turns into
more conversation
with more drinks and a falafel dinner (at who-knows-what-hour of the morning).
This day, where I am finally living the exact life I've always dreamed of living concludes with…
A message from Amanda.
Amanda reached out to me after I posted some pictures on social media.
"You're so lucky. How do you do it?" she asks.
Amanda was a co-worker of mine from three years ago.
We used to work together as customer service agents in the warranty department for a used car company. For eight hours each day, we would get screamed at by angry customers, just counting down the minutes to the weekend.
In between calls, Amanda and I used to talk about the dreams of starting our own businesses.
Amanda had dreams of moving to California and designing her own clothing line.
I had dreams of traveling the world, writing books, and help change the lives of others through meaningful businesses.
For the longest time, both of us said we were going to do those things
someday.
Malaga, Spain | Present Day
I wake up at 9:45 the next morning hearing to the sounds of Jimi Hendrix –
All Along the Watchtower
echo off of the walls throughout this four-story hostel.
People are spread around the hostel eating fresh fruit for breakfast and getting ready for their days at the beach. The cultures are a mix of Spanish, English, and a little bit of Eastern European.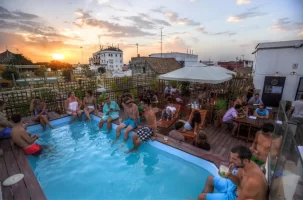 In these moments, I feel detached from the real world.
Everybody is enjoying life, relaxed, and stress-free. Everybody else here shares the same philosophy that you have one life to live, and you should live it the way you want to live it.
After embarking on this journey, the rules of the way we are
supposed
to live our lives have long since melted away.
The smell of freshly brewed coffee seeps through the window as I am wrapping up the final chapter of this book, which I'm writing for you now.
I'm just about to close up my laptop, throw on my travel backpack, and catch a six-hour bus ride through the Spanish countryside.
In a few days, I have a flight to Italy and will continue to live my dreams of writing books to help others, and being free to travel the world.
Then I notice something else…
I look down at my phone and see another message came in from Amanda last night.
She began complaining about the problems with angry customers at work, her boss, and how miserable her life has been over the past three years working that same job, stuck in that same cubicle; spending every Monday morning counting down the hours until the weekend.
Every single day she sits there seeing all these other people living the life she wants to live, dreaming of the day she will finally take action and start her business so she can live those dreams too.
She's read all those books, she already knows what she needs to do, but
she simply isn't doing it
.
Each and every time I talk to her, she begins to list all the things holding her back, and always makes some reason as to why she's not doing those things today.
Then I remember something…
The final words she said to me three years ago, on my final day as an employee, were the same words she's still saying to herself today:
I'm going to do these things,
someday…
Don't like ads? Remove them while supporting the forum. Subscribe.
Last edited: