Silver Contributor
FASTLANE INSIDER
Read Millionaire Fastlane
I've Read UNSCRIPTED
Speedway Pass
Last time I posted about growing my social media, my
thread
was met with lot of criticism (and rightfully so, as those who read it can attest).
Although well intentioned, my salesy language and verbose attitude was off-putting to many members.
I've learned from my mistake and want to make up for it.
I will make this extremely useful and practical, with absolutely zero fluff or self aggrandizement.
After that thread, I took a lot of things into consideration, and realized why my approach was so off-putting. Even though I had nothing to sell, no funnel to promote and no intention to make money from fellow readers, the way I wrote created that impression.
Consequently, I was disappointed that my effort was met with what I found then unfair criticism and cynicism. I aborted the mission and stopped updating that thread.
Fast forward 2 years, and I've learnt a lot I want to share with you, particularly about growing Instagram accounts.
I will show you:
How I grew my account to 300,000+ followers in the past 3 months
How I grow client accounts by 10,000+ followers a month
Methods to grow your Instagram organically, without spending a dime on your Instagram
Viral methods to grow your Instagram fast, by as many followers as you want to have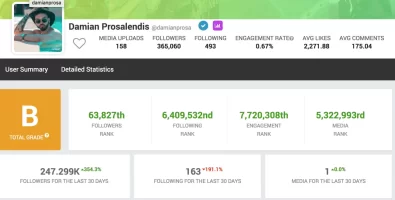 As you can see, I gained about 250,000 in the last 30 days alone.
My engagement rate is currently low, at only 0.67%
There are several reasons why.
First and foremost, I don't post much on my feed. As you can see, I only posted once in the last 30 days.
However, that post has an engagement rate of approximately 10%
The main reason the overall engagement rate is only 0.67% is that it takes into account older posts.
I have pictures and videos shared from back when I only had 10,000-40,000 followers, which bring the overall engagement rate down.
The second reason why the engagement is still not ideal, is that I'm leveraging
viral growth in order to gain followers fast
. Therefore, I haven't yet had the time to nurture my relationship with those followers. As time goes by, the numbers will largely improve.
Another important detail is that I have a lot of unfollows, for the very same reason. A quick look at my Social Blade statistics illustrates:
This is not because the followers are bots or fakes. This is extremely important to clarify.
Yes, the growth pattern seems unnatural, but that is a perfectly normal result of the growth method I'm using.
Here's what I'm currently doing.
I join "celebrity giveaways", the most powerful growth method for Instagram in 2020.
Here's how it works.
A celebrity with massive following announces that they are giving away large prizes (cash, iPhones, Rolex watches etc)
Their audience can win by following a select list of accounts. You get accepted in that list? You blow up overnight
View attachment RPReplay_Final1586972488.MP4
Here's an example of a recent celebrity giveaway campaign.
A famous Russian singer, Egor Kreed, with 12,000,000 is giving away his personal car, a Mercedes G series.
His followers have to follow everybody that he's following, in order to qualify for winning the prize.
That way you get a HUGE amount of followers in a very short period of time.
Most campaigns last anywhere from 3-4 days.
Of course, these people don't follow you because they like your pretty face. They're incentivized, in order to win something from the prize pool.
The bigger the celebrity and the bigger the prize pool, the more followers you get from a campaign like that.
Of course, the campaign is not free. You have to invest money to get access.
With the right connections in the industry, you can get into these campaigns for a bargain.
The cost of follower acquisition is actually very low.
It varies from $0.05 to $0.15 per follower depending on these factors
1) Audience demographics
2) Celebrity's audience size
3) Celebrity's fame
4) Prize pool
Nonetheless, it's extremely cheap, considering how fast you grow.
You could spend 1 year trying to grow purely organically and maybe gain 100,000 followers.
Or you can invest a few thousand dollars, and get the same result in a weekend.
Of course, the relationship you develop with your audience can't be bought, but you get your foot in the door quickly.
In fact, many accounts that have grown purely organically, do not produce better numbers in terms of engagement compared to accounts that grow virally.
You will see plenty of big pages with millions of followers, with quite sad engagement rates and below average follower growth and retention.
Instagram is highly competitive nowadays.
The time where you could grow to millions of followers purely organically, and enjoy "quality" engagement and retention are long gone.
Therefore, celebrity giveaways pose an incredible alternative that gets you the same results in much shorter timeframes.
Personally, I prefer this a lot more than organic growth.
Organic growth demands that you post regularly, at least once a day, sometimes even 2-3x a day.
I find this really annoying and time consuming.
Unless you're a professional content creator, this is not possible for the average Instagram user.
So how do you grow faster, and with less effort?
You have to invest some capital. There is really no other way.
(Well, there is, but it's not easy to pull off. I will get into it in a future post, cause I do not have the time at the moment to delve deep into it. Nor is it something that everyone can do.)
On the flipside, everyone can do organic growth or viral growth via celebrity giveaways.
It's just a matter of deciding what "fuel" you want to add to your Instagram Engine.
There are 2 types of Instagram Engine Fuels.
Time or Money.
Organic growth requires Time invested in creating great content, optimizing your hashtags, reaching the explore page and leveraging the Instagram Algorithm.
Viral growth via celebrity giveaways requires Money invested. That's pretty much it.
Of course, you still have to post in order to nurture the relationship you have with your followers.
But that can be best done by posting Instagram Stories, showing your daily whereabouts. In fact, these give you a better way to connect with your audience, than regular "feed" posts.
That's because they are mostly raw and unfiltered. This makes them feel more relatable and personalized. It's like interacting with your followers in real time, by showing them how you live your life.
Anyway, that's pretty much what I have to say for now.
Feel free to post your questions below. It will really help in giving me direction on what to talk about next.
And to close this off, I would like to give some props to the Fastlaners who gave me shit in my previous thread.
@rpeck90
,
@Fox
,
@MJ DeMarco
and too many others to name.
I appreciate the kick in the a$$. Lesson learned.
Don't like ads? Remove them while supporting the forum. Subscribe.