Creating & coaching on Web Apps | APIs | Webflow
Read Fastlane!
Read Unscripted!
Speedway Pass
I see this translated to a similar comic for fastlaners:
"100 economics students, guided by a brave professor, were forced to read TMFL. They met 10 years later. This is their story…"
But back to the original comic: 1 guy actually made it. The basic recipe:
- have a cheap marriage, if at all
- don't have kids
- actively diversely invest in stock early on
- have a cheap car, if at all
- live "kiam sip"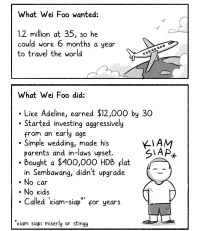 You are set within 10 years having ~1 million in the bank.
Funny how FIRE movement's living-now premises are super-conservative but their "financial independence" calculations are quite Laisser-faire. I. e. live as frugal as possible for 10 years but then with 1M in the bank you are all set to push through the next 50 years, working 6 months a year and traveling for the rest of the time. Good bet
Last edited: